Why don't you come to "LOVESAIJO Point Festa"?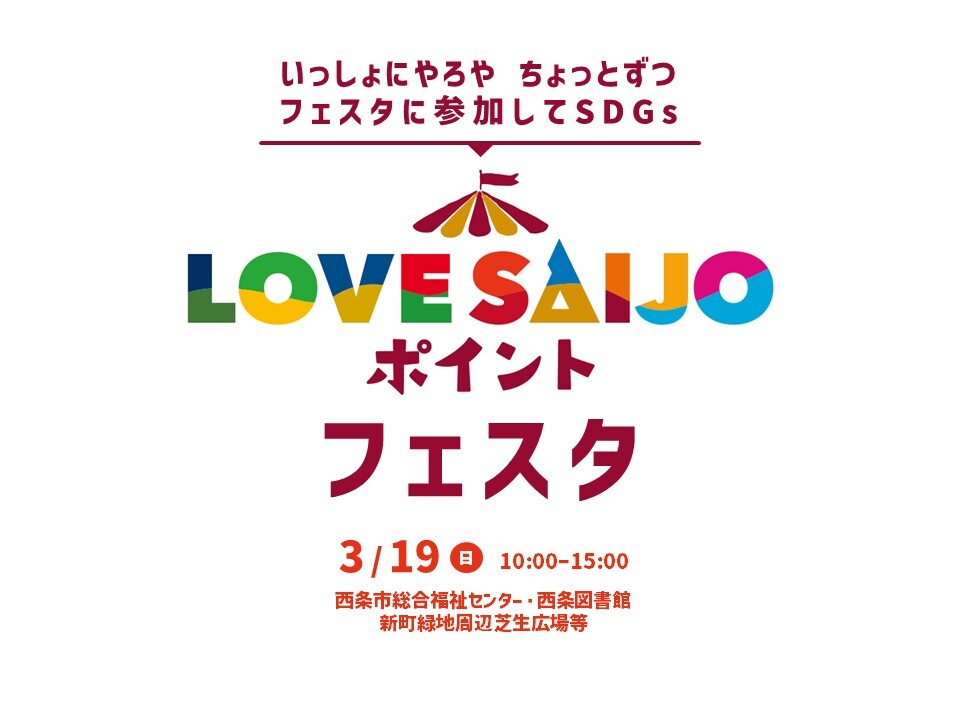 LOVESAIJO Point Festa where everyone who cares about Saijo gathers


The Saijo City SDGs Promotion Council will hold "LOVESAIJO Point Marche" where citizens can touch the three aspects of the environment, society, and economy, with the keywords of SDGs, which have been attracting attention in recent years.
On the day of the event, in addition to events such as SDGs card games, there will be lots of events such as marche by LOVESAIJO point dealers and exhibitions related to SDGs!
LOVESAIJO points can be used for shopping at the Marche on the day, and only customers who shop at the venue can receive a 30% reduction* of LOVESAIJO points!

LOVESAIJO Point Festa where everyone who cares about Saijo from now on gathers. Would you like to come and visit us?
It is necessary to obtain, register and use the prairie app (see the website for details).
Some booths are not eligible
Please download prairie on your smartphone and feel free to visit us.
Event overview
organizer
Saijo City SDGs Promotion Council
date and time
Sunday, March 19, 2023 10:00-15:00 *Held in rainy weather (cancelled in stormy weather)
place
Saijo City General Welfare Center, Shimmachi Ryokuchi Area Lawn Square, etc. (For details, please see the attached location map.)
Number of exhibitors
about 40
Number of visitors (estimate)
About 3,000 people
content
Exhibition by SDGs partner members
Marche by LOVESAIJO point dealers * 30% points will be returned to customers if you shop only at the venue on the day
SDGs card game
Special event (stage for those who have "special event invitation" displayed on the app's "SDGs meter")
Other environmental exhibits
Join the SDGs card game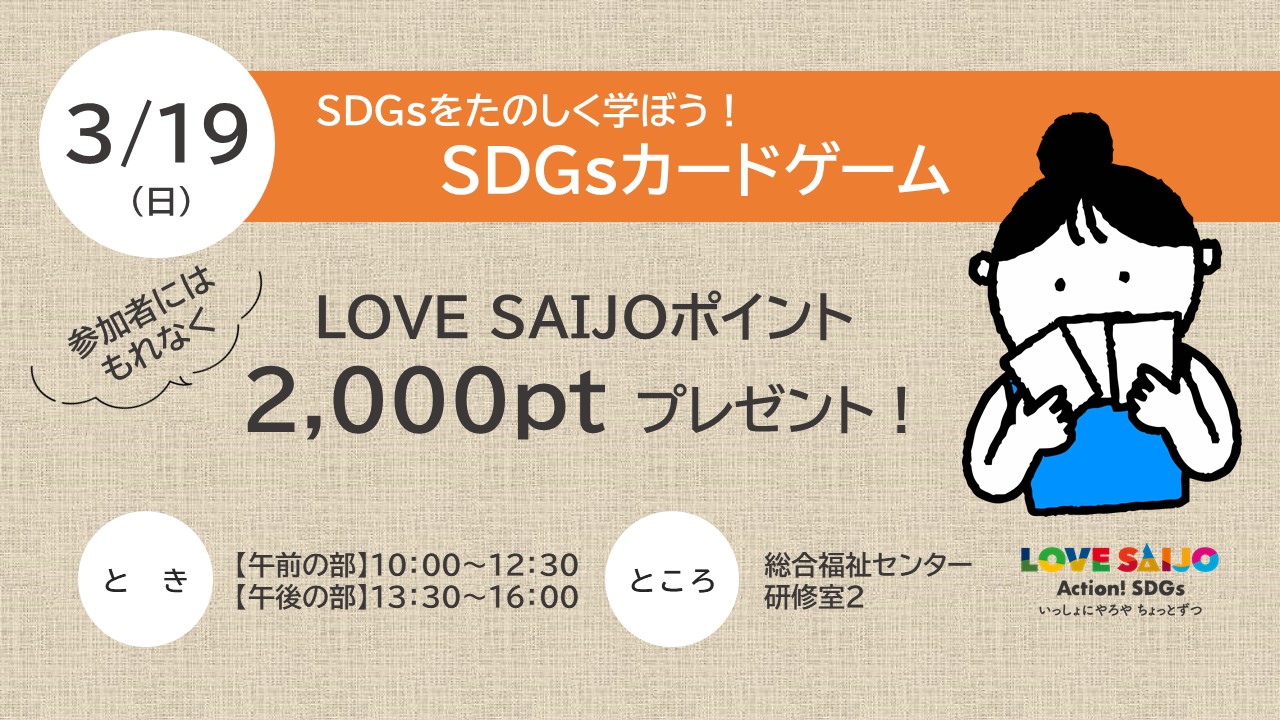 What is the SDGs card game?
The SDGs card game is a workshop-type training where you can enjoy learning about the SDGs.
It has been introduced by many companies, local governments, public offices, and schools, and is known as a representative training for understanding the SDGs through experience, such as being held at the United Nations Headquarters in New York in 2019.
time
<Morning> 10:00-12:30 <Afternoon> 13:30-16:00
place
Saijo City Comprehensive Welfare Center 3F Training Room (2)
game name
"SDGs de Regional Revitalization" Card Game
Target audience
Those who are junior high school students or older and meet one of the following conditions for participation
Residents of Saijo City
People who commute to work or school at offices or schools in Saijo City
A person who belongs to an organization that is a member of the Saijo City SDGs Partner
Granting points
Participants will receive 2,000 points * Points will be given after the card game ends.
* No points will be given to those who have participated more than once.
Recruitment number
About 30 people
Application method
Please apply using the web form below.
SDGs card game participation application form

Click here for other details about the SDGs card game ▶▶▶ Participate in the SDGs card game and participate in the regional revitalization campaign (external link)
special event
This event is limited to those who have "Special Event Invitation" displayed in the "My Meter" function of the prairie app.
We will contact the affected people again.
State of the previous "LOVESAIJO Point Festa"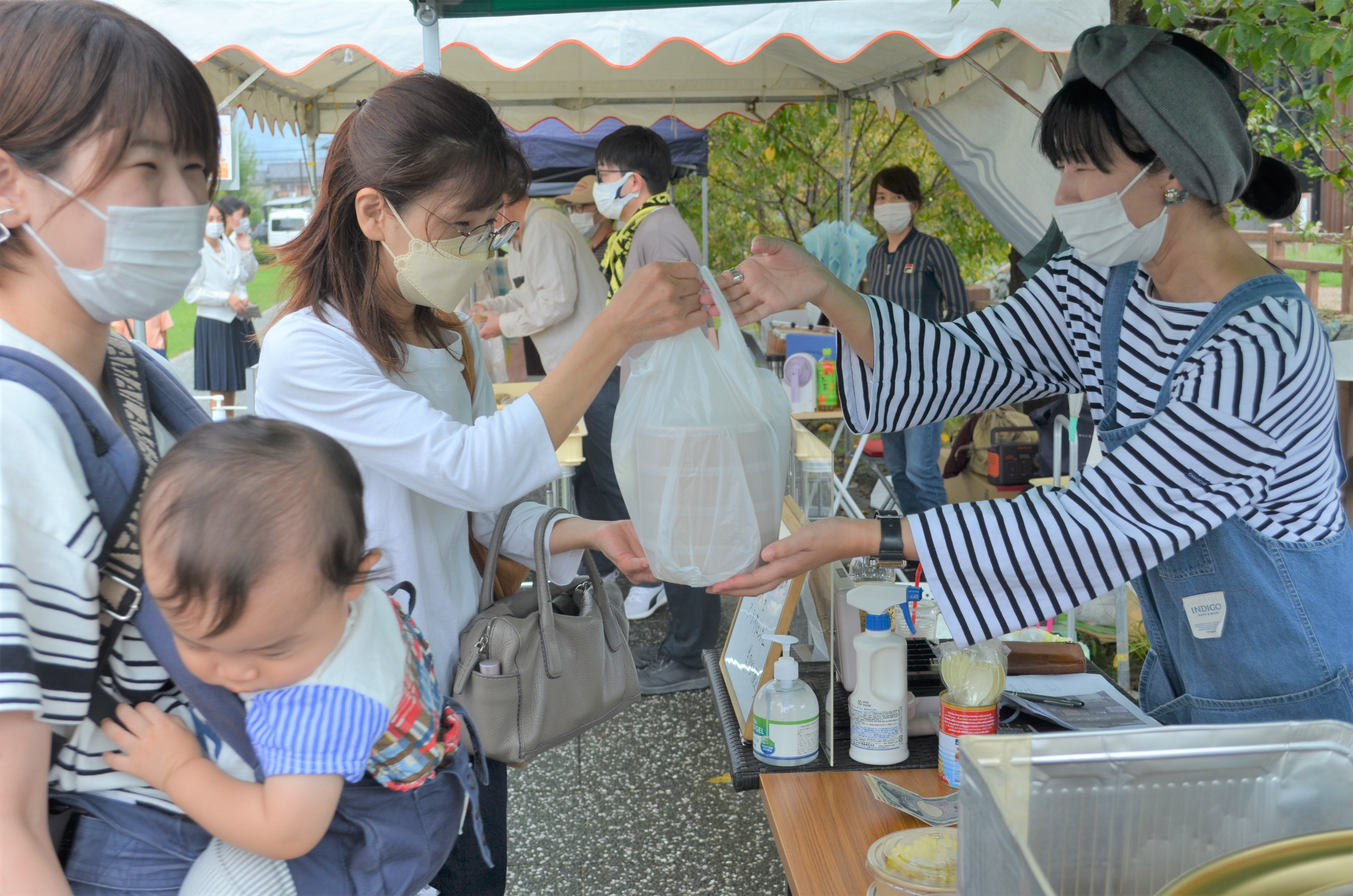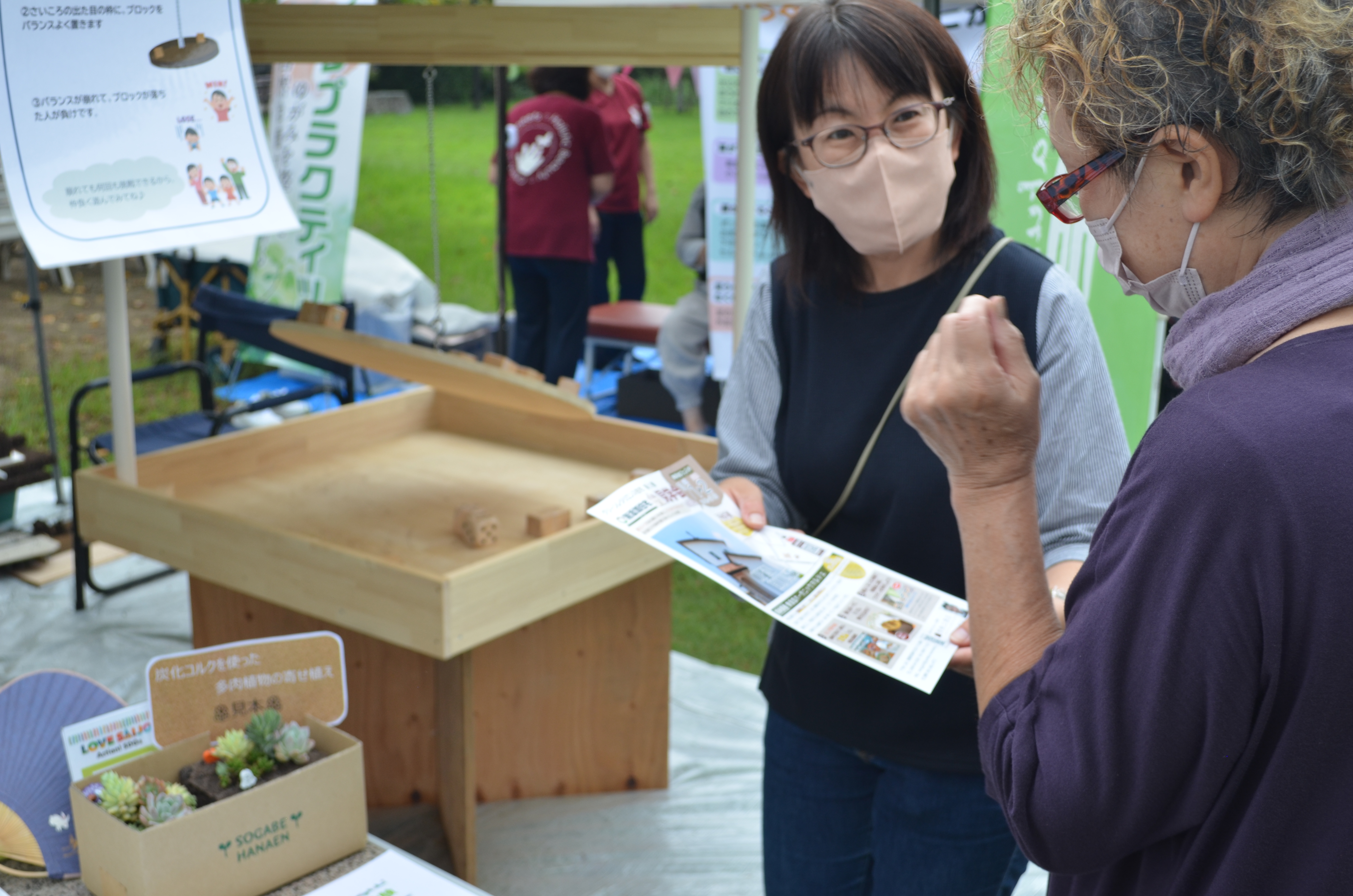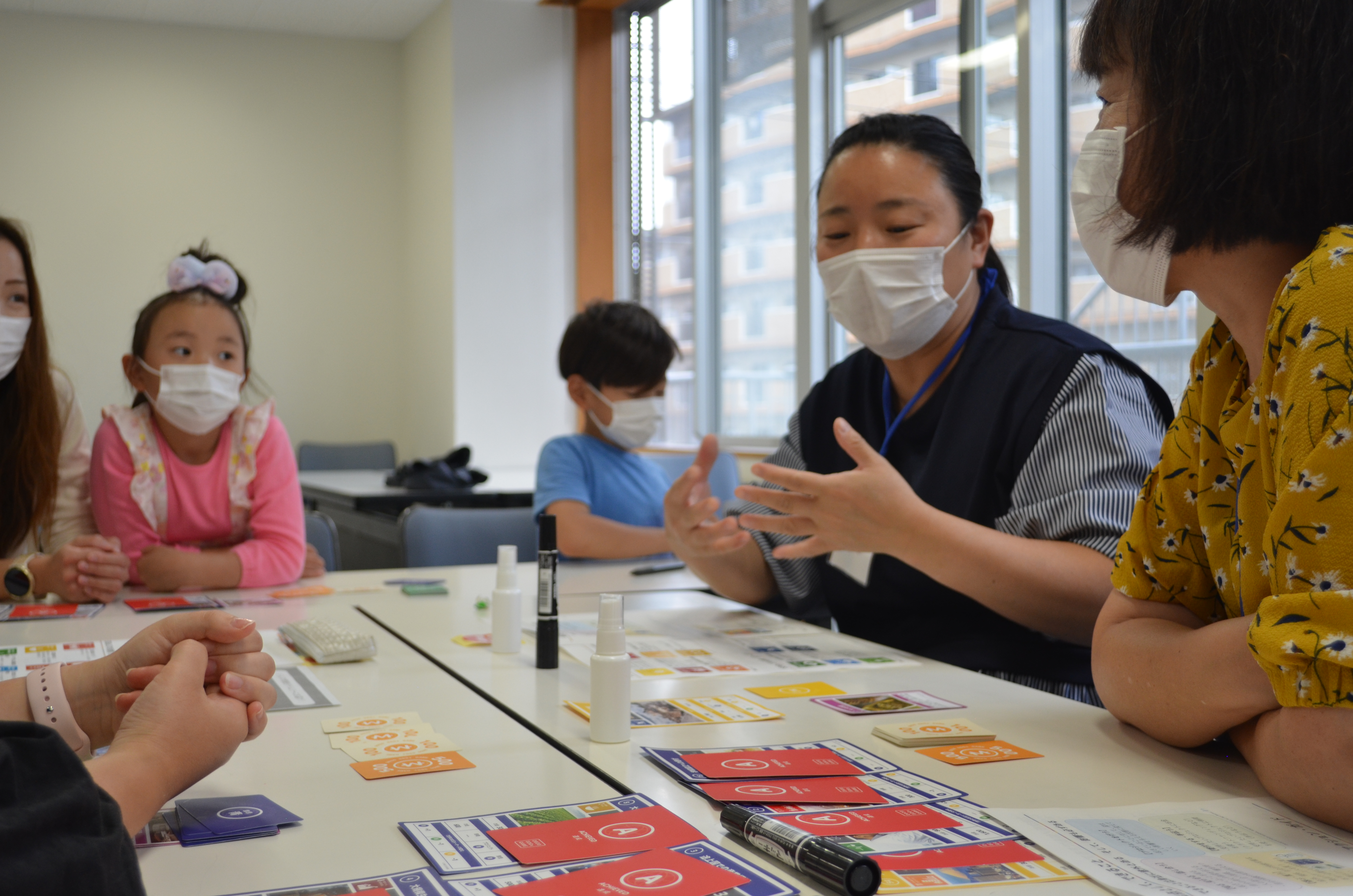 Click here for details ▶▶▶ [September 23] LOVE SAIJO Point Marche was held
inquiry
Telephone support (call center)

Phone number: 0897-66-9852
Hours: Weekdays 9:00-17:00

Counter support

Venue: Heart Station TSUTAYA Saijo Jinya West Store (331 Akeyashiki, Saijo City)
Hours: Weekdays/Holidays 10:00-17:00

Email correspondence