[SDGs partner proposal campaign] Thank you for eating, so that there will be the next "connection" project-5 LOVE SAIJO points gift-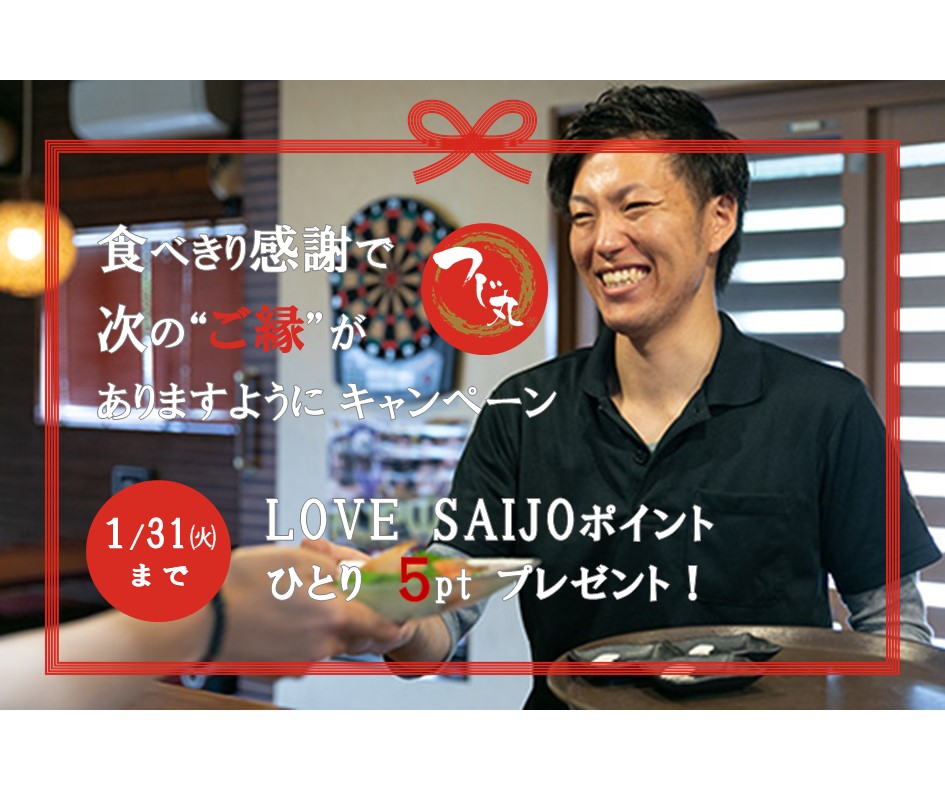 5 "LOVE SAIJO points" will be presented as a token of gratitude and to the next relationship for those who have eaten at SDGs partners "Sake Dining Tsujimaru" and "café Dining Tsujimaru"!
At "Tsujimaru", which is particular about locally produced ingredients, we hope to see you again after eating deliciously without any leftovers. Please come by all means!
Location
② Cafe Dining Tsujimaru (1-16 Hiuchi, Saijo City (inside the Regional Creation Center))
Granted points
5 points per person
*Participants who have finished their meal at either ① or ② are eligible. *Points will be awarded 3 days after coming to the store. Click here for details about " ▶▶▶
About LOVE SAIJO points
Expiration date for the points granted
March 12, 2023 (Sunday)
Implementation period
~Tuesday, January 31, 2023
* Ends as soon as the budget amount is reached
What kind of shop is Tsujimaru?
①Sake Dining Tsujimaru
This is a restaurant that offers local sake, freshly caught fish, and creative dishes centered on local vegetables.
There is a wide variety of dishes and alcoholic beverages.
The store is easy to visit even with children, and is fully equipped with private rooms and tatami mats with a kotatsu.
Phone number0898-76-3939
30 seats
Business hours 18:00 to 1:00 the next day
Closed Sundays (If Monday is a public holiday, open on Sunday and closed on Monday)
②Cafe Dining Tsujimaru
It is a restaurant that actively promotes local production for local consumption, using local ingredients as much as possible.
The rice, in particular, is grown by the owner himself.
In our spacious store, we are also focusing on chartered banquets and café weddings.
Phone number0897-58-4141
60 seats
Business hours 9:00-16:00
Regular holiday Sunday
Companies that propose this campaign (SDGs partners)
Tsujimaru Co., Ltd.
Representative Director Kazuya Sogabe
Phone number 0898-76-3939
Inquiries
About store information and reservations
Please contact each store
About this campaign and "LOVE SAIJO points"
LOVE SAIJO Point Consultation Desk
1. Telephone correspondence (call center)
Phone number: 0897-66-9852
Correspondence time: 9:00-17:00
2. Counter support Location: Heart Station TSUTAYA Saijo Jinya West Store (331 Akeyashiki, Saijo City)
Correspondence time: 10:00-17:00
3. Email supportsaijo@heartnetwork.jp